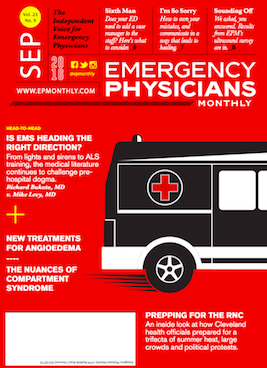 Emergency Physicians Monthly is free for all emergency, pediatric emergency and urgent care physicians (primary and secondary specialty), EM residents and EM physician assistants.
FREE RENEWALS AND NEW SUBSCRIPTIONS:
Please fill out the form below. Please do this annually to avoid subscription interruption. Spread the word in your emergency department so everyone can get their own copy each month. We'll owe you one!
CHANGE OF MAILING ADDRESS:
If you need to change your mailing address, please fill out the form below. In addition to filling out the form below, please notify The American Medical Association by calling (800) 262-3211 ext. 5192 or online at http://www.ama-assn.org/go/address.
PAID SUBSCRIPTIONS:
If your primary specialty happens to be outside our circulation, you can subscribe to EPM at the low cost of $37 per year. Your personal information will remain confidential unless you specify that you would like to receive additional materials from sponsors and partners of Emergency Physicians Monthly. If you have any questions or concerns please contact us info@epmonthly.com