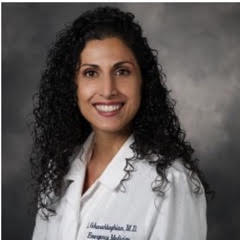 Laleh Gharahbaghian, MD
Dr. Gharahbaghian is the Medical and Quality Director of Emergency Medicine at Stanford University. Her research spans the study of various point-of-care applications in the management of critical patients, in the screening of trauma patients, and emergency department operations and quality care.
She is a leader in the national bedside ultrasound educational impact, has led several very successful educational innovations in emergency ultrasound, including her internationally-known blog,
SonoSpot.com
 and online educational game, 
SonoDocGame.com
. Dr. Gharahbaghian is an advocate for social health, providing the highest quality of care to patients and their families.